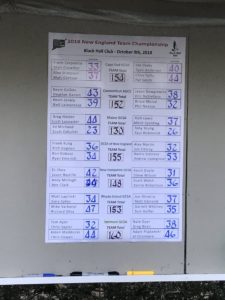 On a beautiful October day, in Old Lyme, Connecticut, a group of eight VtGCSA members took on the other six New England associations in the regional championships, at Black Hawk Club, and came away with the VICTORY!
Tom Ayer, Chris Saylor, Nate Dyer, Greg Bean, Alden Maddocks, Chris Cowan, Adam Poplowski, and Al Choiniere played their hearts out and took home the championship again!
Special recognition goes to the "D" team member Alden Maddocks, who recorded his first five pars of the year and netted eagles with four of those pars.
Shout out goes to team member Adam Poplowski who netted a closest to the pin award with a shot that was 3″ away from an ace.
(Greg Bean got a jump start to his long ride home and is the missing team member, from the photo)
Special thanks to all of the sponsors: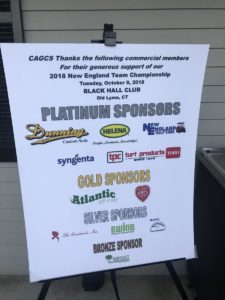 (All photos courtesey of Kevin Doyle, GCSAA Regional Rep.)
(this post may have been written by Alden Maddocks)