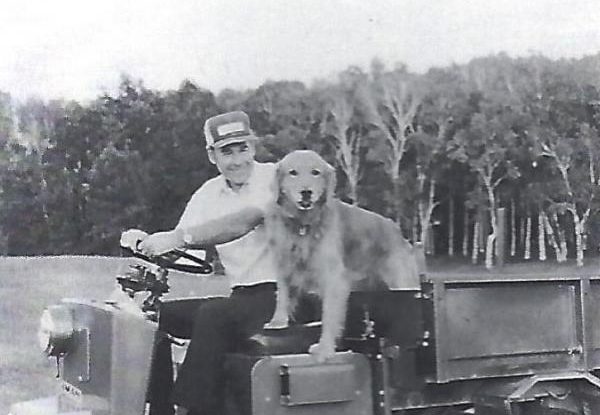 After a life full of blessings, Paul Joseph O'Leary, 92, died peacefully at Equinox Terrace in Manchester Center, VT., on January, 7th, 2018. Paul was born to Daniel and Jessica (Polachi) O'Leary in Worcester, Mass. He is predeceased by his older brother Raymond O'Leary, and survived by his younger brother, Daniel O'Leary.
As a young boy Paul developed the family "sweet tooth" on pastries from his mother's family bakery, and in his teens, caddied at Pakachoag and Pleasant Valley Country Clubs where he came to love the game of golf. A fan of Big Band Music, he especially loved attending performances of the Glenn Miller Band, for whom his Uncle John O'Leary was road manager. Paul served in the U.S. Air Force, from 1943 to 1946. He graduated from the University of Massachusetts in Amherst with a degree in Agronomy in 1948. In 1950, Paul married his beloved wife Rita (Coyne), also of Worcester, Mass. When he went to work as a Golf Course Superintendent at Warwick Country Club, in Warwick Rhode Island, it was a nine hole golf course, and under Paul's supervision, it became a full eighteen hole course in 1954.
In 1958, Paul and Rita and their young family of five children, moved to Manchester, Vt., where Paul became Superintendent of Ekwanok Country Club as well as the adjacent Equinox Country Club. Later when The Equinox took full control of its course, Paul continued at Ekwanok for many happy years where he never tired of its stunning landscape and renowned white birches. In 1995 Paul retired after 37 years at Ekwanok Country Club. Paul also assisted in the design and construction of numerous other courses in Vermont including Stratton, Dorset, Kwiniaska, and Lake St Catherine. For several years Paul served as tree warden for the Village of Manchester. Paul was a director of the Northeastern Golf Course Superintendents Association for 22 years and a founder of the Vermont chapter. He was one of the first Vermont superintendents to be certified by the national association. Golf writer Bob Labbance wrote of Paul, and his teacher, architect, Geoffrey Cornish, "Two of golf's greatest gentlemen, Architect Geoffrey Cornish and Superintendent Paul O'Leary softened the challenge to reflect what the players wanted; a convivial place for a casual game in stunning settings." Paul often remarked that any time you were fortunate enough to be playing golf on any of Vermont's courses you were in a beautiful place. Paul was a man of faith and member of Christ Our Savior Parish in Manchester as well as a member of the Knights of Columbus there.
Besides golfing, and rooting for the Boston Red Sox, Paul enjoyed family gatherings, and any excuse to have an ice cream cone! Paul was predeceased by his oldest daughter, Anne, in 1977. After his first wife, Rita, passed away in 1983, the luck of the Irish smiled on Paul and he was fortunate to meet Elizabeth (Betty) Houskeeper. Paul and Betty married in 1985 and spent 32 wonderful years together and is survived by her. He is also survived by his children and their spouses, Kathleen and Joseph Cassidy, Sharon O'Leary, Paul and Sherry O'Leary, and John and Kris O'Leary, and grandsons Kevin, Mickey (and his wife, Becca,) Daniel, Matthew, Ryan, Colin, and Max as well as many nieces and nephews. He is also survived by his stepchildren and their spouses, Bernadette Dooney, Jeanne Chisamore, Robert and Jamie Houskeeper, Peter Houskeeper, Margaret and John Ohrn, Matt Houskeeper, and Erica and David Barron, and step-grandchildren, Margo, Henry, Sam, Eric, Ryan, Kristy, Kelsey, Sophie, Jack, and Phoebe.
Funeral Information
A mass of Christian death and burial will be celebrated Friday morning January 12, 2018 at 11am at Christ Our Savior Parish (St Paul's Catholic Church) in Manchester. Interment will be held in the spring at Dellwood Cemetery in Manchester. Visiting hours will be held Thursday January 11, 2017 from 5-7pm at Brewster-Shea Funeral Home 34 Park Place Manchester Center, VT. In lieu of flowers, Donations to the Manchester Community Food Cupboard, P.O. Box 864, Route 7A, Manchester Center, Vermont 05255 (802) 362-0057 would be appreciated or the Northshire Rescue Squad, c/o Brewster-Shea Funeral Home P.O. Box 885 Manchester Center, VT 05255.