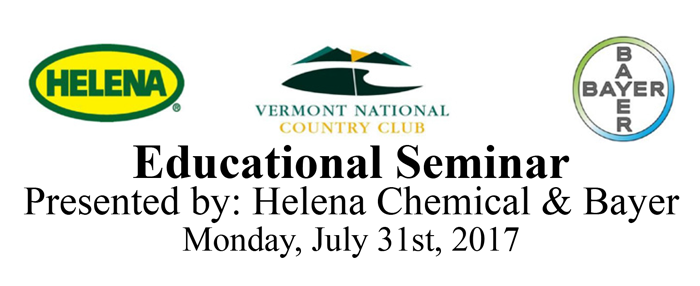 Come join us on July 31st 2017 at Vermont National Country Club for a day of education and golf. Please RSVP to Sean Kennedy 802-558-4009 KennedySR@HelenaChemical.com by July 21st. Limit one guest per Superintendent.
Download Helena Summer Meeting Flyer
Seminar 8am-12pm includes the following topics:
Dr. Brad Shaver- Helena Agronomist
Rx 360
Turf Metrics
Bryan Giblin- Bayer Product Manager New England
Exteris Fungicide New SDHI!!
Stressgard Technology
Indemnify
Chris William- Helen Product Manager
Aristocracy- New wetting agent technology
Renova- fighting stress with Amino Acids
Receptor- Maximize fertilizer while growing roots !!!